B I O G R A P H Y
'Lisa' sounds like 'Liza'
---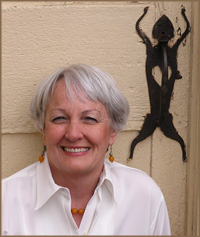 Lisa Alther was born in 1944 in Kingsport, Tennessee, where she went to public schools. Her father was a surgeon and her mother a homemaker, and she grew up with three brothers and a sister. She was graduated from Wellesley College in 1966 with a BA in English literature. After attending the Publishing Procedures Course at Radcliffe College and working for Atheneum Publishers in New York City, she moved to Vermont, where she has lived for over fifty years. She has taught Southern fiction at St. Michael's College in Winooski, Vermont, and at East Tennessee State University, where she was awarded the Basler Chair. Having lived in London and Paris, she now divides her time among East Tennessee, Vermont, and New York City.
Alther is the author of twelve published books: KINFLICKS, ORIGINAL SINS, OTHER WOMEN, BEDROCK, FIVE MINUTES IN HEAVEN, and SWAN SONG are contemporary novels. WASHED IN THE BLOOD is a three-part historical novel concerning the earliest European settlement of the southern Appalachians. STORMY WEATHER is a short story collection. BLOOD FEUD is a narrative history of the Hatfield-McCoy feud and a rumination on the origins of violence. Her memoir KINFOLKS explores her family's alleged connections to the Melungeons, a mysterious Appalachian tri-racial population. ABOUT WOMEN is a dual memoir composed with the French painter Francoise Gilot concerning their very different - and in some ways, similar - upbringings in France and the United States. A novella entitled BIRDMAN AND THE DANCER, based on a series of monotypes by Gilot, has been published in Holland, Denmark, and Germany, using the monotypes as illustrations.
Three of these books were Book-of-the-Month Club selections, and four were New York TIMES bestsellers. They have been translated into seventeen other languages and have appeared on bestseller lists worldwide. For biographical information and critical discussion of her work, please consult CONTEMPORARY AUTHORS, CONTEMPORARY LITERARY CRITICISM, CONTEMPORARY AUTHORS NEW REVISION SERIES, MAJOR TWENTIETH CENTURY WRITERS, GAY AND LESBIAN LITERATURE, LITERATURE OF THE APPALACHIAN SOUTH, and the OXFORD COMPANION TO WOMEN WRITING IN THE UNITED STATES.
Alther's reviews and articles have appeared in many periodicals, including the New York TIMES, New York TIMES BOOK REVIEW, ART AND ANTIQUES, Los Angeles TIMES, Boston GLOBE, Washington POST, San Francisco CHRONICLE, NATURAL HISTORY, NEW SOCIETY, and the GUARDIAN, among others.
One of Alther's stated aims is to explore the human reality behind cultural stereotypes, particularly those regarding women. She often deals with such material in a humorous fashion, reviewers in both the New York TIMES BOOK REVIEW and THE NATION having written that she possesses "comic genius."
In 2020 Alther received a Gold Medal Award for Human Achievement from the Idries Shah Foundation in London for "contributions to literature." Her literary archive was purchased in 2021 by the Harry Ransom Center at the University of Texas in Austin.
---
Photo and photo on front page by Sara Bostwick (Lisa's daughter).